Herdman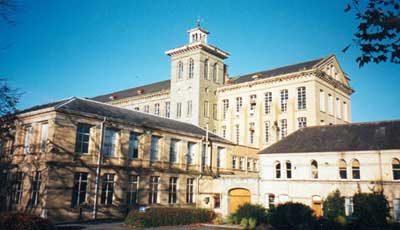 The old Herdman's Mill in Sion Mills.
Photograph taken by Celia Ferguson.
In 1828, this mill was rebuilt by Abercorn, but shortly afterwards became incorporated in the flax spinning mill standing here today, having been purchased by way of a 500 year lease by the Herdman brothers, James, John and George, in 1835 in partnership with the Mulhollands (Andrew and Sinclair) and Robert Lyons. By 1849, the Herdmans were the sole owners, having bought out their partners. A map of 1846 shows the "Old Mill" as measuring 248 ft long by 48 ft wide. In 1879 a third storey was added. Your Place And Mine - Tyrone - Herdmans Mill, Sion Mills Click on link for major article written by Celia Ferguson on Herdmans and Sion Mills.
The Herdman side of the families listed below starting with Dr. William Suffern Herdman go back through his father, James Herdman and brothers mentioned above. James' great grandfather was John Herdman who fought for King William at the Battle of The Boyne in 1690.
Dr. William S. Herdman b: (1851) Ireland...physician & surgeon.
Home in 1880: Daytonia, Volusia, Florida.
Spouse: Adelaide Mary Herdman b: 1853 (est), London,England. (maiden name Wall)
Children: 1. Elizabeth Herdman b: 1873, Calif. 2. Jane Herdman b: 1875, Calif. 3. Lillian Herdman b: 1876, Calif. 4. James Herdman b: 1877, S. Carolina. 5. William Herdman b: 1880, Florida.
Elizabeth Rosalie Herdman Married Claude T. D. Havens in 1898 at Gray's Harbor, Washington. They had eight children:
James b: 1898 m: Bertha Gulgraa b: 1909; Adelaide b: 1900 m: Claude Beltz; Agnes b: 1902; Beatrice b: 1903;
William b: 1906; Olive b: 1908; Edith b: 1912; Claudia b: 1914
Claudia Olivia Havens married Lawrence J. Herbinaux on September 27, 1939 in Seattle, WA.. They had a daughter, Susan, and Larry adopted Claudia's son James. Claudia descends from Havens, Herdman families which is expanded upon on other pages. Lawrence's father was Alfred Herbinaux, who emigrated from Nancy, France, and was killed in a mine explosion in Morrissey, BC October, 1903. Larry was raised by his mother, Marie Bruchet. Larry enventually grew up in Washington State. He was in the Merchant Marine when he met "Sally" Claudia and were married. They spent time working in Seattle, farming in Stanwood and finally moved back to Seattle. Larry passed away March, 1974. They had a daughter, Claudia Susan Herbinaux, born July 11, 1945.
Here is very interesting link to the linen evolution plus the pictures below regarding the resurgence of linen with James Herdman.